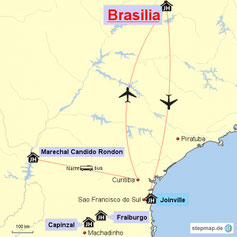 After several visits visits Brazil and the highlights of the country, this journey of the capital and some of the relatives living in Brazil should apply.
From Theo Kirchhoff
In 3 weeks and 1942 km on brazil streets.
After several visits Brazil and the highlights of the country, this journey of the capital and some of the relatives living in Brazil should apply.
| | |
| --- | --- |
|   | Overnights |
| 1 | Brasilia |
| 2 | Joinville |
| 3 | Capinzal |
| 4 | Fraiburgo |
| 5 | Marechale Candido Rondon |

Overnights
Overnights.docx
Microsoft Word Dokument
31.2 KB
Travelogue
At 12:11:13 I flew from Dusseldorf via Madrid and Sao Paulo to Brasilia . Already booked in July, round-trip flight for only 594, - Euro .
When I arrived In Brasilia it was pouring with rain , the taxi ride took 60 minutes instead of 12 minutes. The streets were flooded. It turned out that the connection to the center was quite good. A bus stopped at the hotel, went to the metro station " Park Chopping " , from there it was about 20 min at the central bus station " Rodoviaria ", from there you can go in all directions by bus. This is a good thing, to pedestrian might have at planned on the drawing board , and in the 1950s he stamped out of the ground in over 3 years, the city, less thought . Will not so much respond to the individual , designed by the architect usually Oskar Niemeyer representative buildings , there are also read a lot. It is said : Some like Brasilia , and others love to hate Brasilia . After 3 days Brasilia I flew also to Curitiba (156, - euros return ) . From there take the bus to Joinville at my cousin 2 Degree ( Prima segunda ) in neighboring Sao Francisco do Sul our ancestor arrived in 1928 as a 16- year-old emigrants - the mother has never forgiven him for emigration. He married and had eight children with his wife , 3 of which are still alive. With in-laws , grandchildren and great-grandchildren with relationship has grown to over 100 people.
Joinville is called the city of flowers and dance. There is the only branch of the Moscow Bolshoi theater all over the world.
Then we went by bus to Capinzal where another relative lives with family. He has a decorating business and operates a farm .
Because of the mountainous landscape is still a lot of forests , with the typical for this area Aurakarien ( Southern Pine ) is obtained.
A visit to Piratuba showed that there very many German -born people live mainly from the Hunsrück . My relative knew , I believe , every other inhabitants. This made it easy to take everything worth seeing in inspection . " Kenn ruffa go " I have often heard . Pirutuba has thermal springs , which are used in very large systems .
The nearest town of my visit was Machadingo in Rio Grande do Sul. To achieve it , it went over the dam of pent Rio Uruguay. There is , as so often in Brazil , the hydroelectric power used to generate electricity . The Uruguay should be stowed or two other places . Brazil produces about 80 % of electricity from hydropower.
Then a visit to another Prima Segunda was announced, there will be by the daughter and son-in a rather small , too far away from the city agriculture with 20 cows and a few pigs and chickens operated . Idyll , at least for visitors . My Prima gave me a 1000 Reis coin from 1927 - I was touched.
After the ride went over the beautiful city Fraiburgo (Apple mounting) to Marechale Candido Rondon. The city is located in the state of Parana and at that time was founded as a purely German settlement. My related there told me an interesting story : His grandfather, the initially mentioned emigrants , had worked as a shipper, innkeeper and blacksmith. In the Nazi - and war period had been ordered by the government that they have to speak German origin only Portuguese. The Caboclos ( mixed race ), many of which were rather viewed in the eyes of German origin as lazy and criminal , were thereby encouraged to take on the not very popular German origin . So it was during the emigrants forged a glowing chain , to dispute with a Caboclo , in the course in which Caboclo the glowing chain the mouth landed and the previously worn with pride beard was gone. The decision taken took but because of the strength of the blacksmith and the lack of support is not immediately revenge.
But not long after the incident, the off - immigrants a knife was thrust in the back. He went to the treatment of a Dr. Seyboth , but died after some time , because he had diabetes. My relative white, the infamous concentration camp doctor , Dr. Mengele at this time from Paraguay to Marechale CR had come and friends with Dr. Seyboth . He was said to be five years there before he moved on to the vicinity of Sao Paulo. Through an exterminator of relatives learned that even existed long old tunnel from the former private residence of Dr. Seyboth the former clinic. It is possible that the injured party has met the concentration camp doctor without suspecting anything.
From Candido Rondon Marechale I 'm in he night with a Leito bus 9 hours to Curitiba driven (77, - € ) . A very comfortable bus but loud AC. A simple bus would have cost only half , but there was no more space. Then again for 3 days Brasilia .
Conclusion
The earlier experienced Brazilian hospitality has been more than confirmed by my host family again. One has the feeling that there is nothing better for them than to have a visit from Germany .
Another pleasant experience was : As soon as I entered the metro in Brasilia, immediately became a free course offered to me. In the city buses was returned to me the fare usually , and I could sit on one of the spaces in front of the turnstile . This is an advantage when one is older than 71 years.
If I travel via Madrid to South America, was to surfaces that you have at least two hours to get from Terminal 1 or 2 to Terminal 4 and from there to Terminal 4 S 
Travelogue

Travelogues Brazil
Travelogues_Brazil.docx
Microsoft Word Dokument
148.3 KB