---
Hiking map with the tours from 1 to 5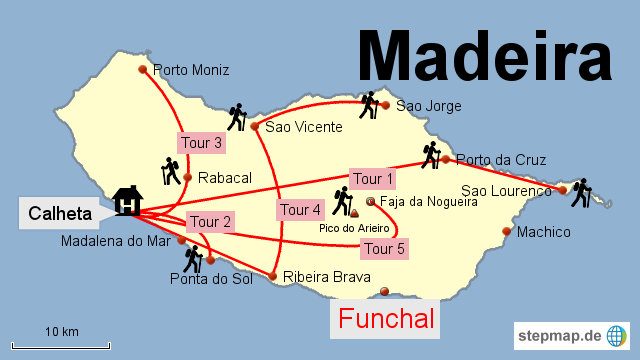 Hiking map with the tours 6 to 13
---
09th July 2015 - Arrival
We had decided to take a direct flight with Condor from Hamburg to Funchal that is flying always on Thursdays. At 3:45 a.m., the alarm clock was ringing, as the departure was scheduled already for 6 a.m. The flight was relaxing and also the landing went well which we were a bit worried beforehand because of the quite short runway located directly at the seaside (in a reportage we heard that Funchal belongs to one of the 10 most dangerous airports of the world).
At the airport, we had already pre-booked and paid a rental car. The pickup took us some time, on one hand because of the long queue on the other hand because the voucher had been registered on a wrong name. Originally, we had booked the smallest class of rental cars (Fiat Panda or similar), but the rental company advised strongly to take a car with more PS. Although this resulted into higher costs of 105 € as we took also a Diesel (Seat Ibiza), we did not regret this at all afterwards.
Madeira is really mountainous with extremely steep streets, so we were happy about each additional PS and asked ourselves, how it is possible to drive with a smaller car here at all. And on top we were lucky to get a new car that had been driven only 40 km, so we were the first drivers.
Thus, we took our car and drove to our apartment on a sunny and quite hot day. Our accommodation is in Calheta, it is the apartment house Calhau Grande (http://www.calhaugrande.com), which we like very much. Small cottages, built in the original Madeira style with stone and wood, a great view over the sea and a lovely cultivated garden with a lot of beautiful plants. Of course, one of our first things we did was swimming in the great pool of Calhau Grande and afterwards, we went shopping in the supermarket at the beach of Calheta to buy the necessary food.
In the evening, we went to a small typical Snackbar where we tested the first Poncha.
---
10th July 2015 - Hiking tour on the Eagle Rock and on the peninsula São Lourenco
Our first hiking day started quite sportive as Thomas was highly motivated to do on one day already two tours and he could persuade Judith. In the morning we went to the Eagle Rock, which is located in the North of the island near Porto da Cruz. We drove straight away over the mountains from Funchal to the North on a quite adventurous and curvy road. In general would have been more sensible to use the motorway around the island as this road trip took with 1 ½ hours quite a lot of time.
Therefore, we started our trip up to the Eagle Rock rather lately at 10:30.
The North of the island is quite green and the Eagle Rock is located directly at the coast with a tremendous view over the sea. On our way upward, we lost our way a bit. You need to be careful and go more to the left side at the start of the path upwards. On addition, the way is marked with a red dot that we noticed afterwards. The flora varies continuously and from time to time, small lizards were passing our way, to falcons were circling over the sea. Although, the sun was not shining the whole time, it was rather hot and humid and we were sweating. In general, we can only recommend this hiking tour. She is marked in the Rother guide as a black/demanding tour as we had to pass around 400 altitude meters over a distance of 2 km.
Afterwards, we drove to Machico and went to the a bit more higher class restaurant Lily's and ate – hungry as we were – 3 starters and two times grilled fresh fish.
In the afternoon, we went to the peninsula São Lourenco, which is the opposite to our morning trip regarding the landscape. The dry mountainous corner of the island is without wood, the colourful rocks and lava formations are fascinating. This hiking tour is much more preferred among tourists and therefore, also much more frequented. The pathway leads over small stairs up and down, sometimes on uneven stones and with rope secured, but in total not very difficult. Our target was a small swimming bay where we went swimming to cool down a bit around 6 p.m.
Finally, a short shopping trip to buy some bread and bacon, and now we are enjoying again our apartment with the gorgeous view on the sea.
Hiking tours: Rother Nr. 45 and 12 -  see card: Tour 1
(PS: Unfortunately, there are no pictures for both trips because today, on Saturday, our external hard drive has a problem and we had already saved all pictures on it and they are not lost)
---
11th July 2015 - Arco da Calheta and Lombada da Ponta do Sol
After the annoying incidents with the broken hard drive and the lost pictures yesterday, we spent a quite morning and went only to the church of Arco da Calheta and bought something to eat for lunch. After our siesta, we drove to Ponta do Sol to start our first levada hiking trip. Over curvy roads we drove up to Solar dos Esmeraldos where we started our trip near the manor house and the church. Although it was now already in the afternoon, the sun was still burning and we had to lotion ourselves quite carefully. Right after the church, the Levada do Moinho starts, the lower one of the two levadas that were leading into the valley. It was rustling and lizards were scuttling away as soon as we were approaching them. This levada has been recently reconstructed and it is quite easy to walk on, only a few parts are exposed. The levada is leading picturesque deeper and deeper into the valley and at the end, we had to climb a staircase up to the Levada Nova. This newer levada has continuously a 40 cm wide walking border that requires quite often a head for heights because there are not always securing ropes. We were most impressed by a small pretty waterfall that is over our path and were we had to be careful not to get wet. Afterwards we passed our first levada tunnel and were happy to have our head lamps – especially Thomas who would otherwise always bump his head. The last meters of our way, a farmer was overtaking us and gave each of us two plums as a present, what a kind and hospitable gesture!
At the evening, we had dinner in the restaurant Cantinho da Madalena in Madalena do Mar. The food was okay and Thomas enjoyed very much the first black scabbard fish with bananas.
Hiking tour: Rother Nr. 9  -  see card: Tour 2
Arco da Calheta
Lombada da Ponta do Sol
---
12th July 2015 - From Rabacal  to the 25 Springs and the Risco-Waterfall
Our Sunday morning started quite early – our alarm clock rang at 6 a.m. and although we were still rather sleepy, this was a very good decision. Our plan was to go on one of the most well known (and thus quite frequented) levada hiking trips on the plateau of Madeira. Around half past seven in the morning, we arrived at the parking place above that was still completely empty. We enjoyed the perfect morning dawn.
Starting on that place, there is a shuttle bus (from 9:30 a.m. onwards) down to the forester's house (distance approx. 2 km) which is recommended to use to shorten the length of the tour. As we were of course too early, we walked down and enjoyed the heath landscape, in which you might feel as a mouse in the German "Lüneburger Heide". Such big heat bushes, impressive unknown endemic flowers and plants. A small staircase was leading further down to a levada in which you could see some small trouts swimming. We followed the path into a canyon, from where we climbed up again on a staircase to an old levada house. Now the levada path became more narrow and we were happy that we were wtill alone as otherwise the crowd might be quite annoying. At the end of the path was the famous cauldron where the 25 springs are pouring into a small lake – a really impressive spectacle. Only at our way back, we met the first tourist groups (in general you should avoid Tue, Thu and Sat because these are the main group days). A detour to the Risco Waterfall that sprays mist on the visitors was the end of the really recommendable tour.
Afterwards, we drove over the plateau to Porto Moniz. A serpentine goes down into the village and you can already see from the top the basins of the ocean swimming pool. We had a good lunch and enjoyed also into this incredible swimming pool and especially the surf which slopes from time to time into the basins, so that Judith and Thomas had a lot of fun.
Hiking tour: Rother Nr. 51 combined with Nr. 50 -  see card: Tour 3
---
---
13th July 2015 -  The coast path from São Jorge and the Levada da Fajã do Rodrigues
Another great day started although in the morning there were still a few clouds on the sky in the North of the island. Our first hiking target was São Jorge. The drive from Ribeira Brava to São Vicente did not take a long time whereas from there until São Jorge the old coast road curved in many serpentines quite adventurous and narrow.
We parked our car in Calhau, an old ruin village and walked then along the coast with breathtaking views on the sea. We did not take the last corner to the headland as the path was really impassable and shabby. Furthermore, there was a sign which prohibited passing by. But it was very impressive that on these inaccessible spots in the rock some fisherman were sitting – however they made there way to these. A staircase of stone was leading steep up to the village and from there we descended similarly steep. In general, it was a really sweating hiking tour, but with marvellous views and a kind of pirate feeling.
For lunch, we had chosen in São Jorge a quite typical local restaurant called Casa de Palha. Please do not follow the google map location of Tripadvisor, because this is misleading. Only with the support of some local French speaking guys we found finally the restaurant, and it is located directly in the centre behind the church. The effort was worth, we had a very good prawn soup inside a bread, a cress soup, a pork stew and a kid.
Back again the same romantic coast road and on the hills behind São Vicente, we started our afternoon hiking tour.
The Levada da Fajã do Rodrigues (Nr. 32 in the Rother guide) is a hiking tour for tunnel fans. We walked along the levada that is at the beginning quite easy to go. In the rear part are some exposed areas and there are also three very interesting tunnels where we could use our head lamps.
The first tunnel is quite low but short, the second approx. 200 meters long and the last one only a few meters. Between the tunnels are some impressive small waterfalls and perfect views in the narrow canyons. After a short shower, we had a final look into the last tunnel that is 1 km long and should not be walked through also according the guide because with 20 minutes walking distances this is not really enjoyable. Thus, we turned and went back fast.
After our dinner we had mixed our first Poncha, very nice!
Hiking tours: Rother Nr. 26 and Nr. 32 - see card: Tour 4
---
The coast path from to São Jorge and our lunch
Levada da Fajã do Rodrigues
---
14th July 2015 - Fajã da Nogueira 1 and 2

Again, we got up early and our alarm clock was ringing at 6 a.m. because we had a longer drive to our hiking tour Fajã da Nogueira. Although the distance is 8 km longer, it is recommended to drive to the valley of the Pico da Nogueira using the eastern route via Machico on the motorway because this is faster. The last 4,3 km up to the hydroelectric power plant is road metal which is very uncomfortable. For a SUV no problem but with our Seat Ibiza, we had to drive very slowly and shaking with the first gear to assure that the car manages the stones at least. Due to this road, there only very few people going on this hiking tour and also we met only a nice German couple and a French family.
First we had to continue the road metal whereas at this time not our car tyres but feet were suffering. After approx. 45 minutes we came to some impressive laurel trees which roots are supposed to be older than the first inhabitants of Madeira. After some further strenuous meters (currently, we have here between 25-28°), we reached the Levada do Pico Ruivo and turned first to the right. This part is the hiking tour Nr. 21 that is marked as easy (blue) in the Rother guide. The levada is mainly covered with stone plates and it is no problem to walk on it. After some small short tunnels, we reached the first longer tunnel. Behind that tunnel, there is one with old rails of a lore railway which was used historically for transport. At the end of this tunnel, we enjoyed a beautiful view on small waterfalls and had a look into a 2,4 km long tunnel that of course should not be walked through.
Having turned back, we went now to the other direction of the levada, this is the hiking tour Nr. 22 which is marked as heavy (black) and much more difficult because of the required head for heights. The levada border is quite often not more than 40 cm wide and typically not secured with a rope. But marvellous views into the value and a incredible nature set the unforgettable impression of this trip. In a small curve, we ate our lunch package and afterwards we walked along the levada, crossed a lot of small and narrow tunnels. At the end before a bigger tunnel, we turned left and went back through the laurel wood to our car.
And this evening, we had decided for barbecue and enjoyed the evening atmosphere with the great view from our small apartment garden across the sea.
Hiking tour: Rother Nr. 21 combined with Nr. 22 - see card: Tour 5
---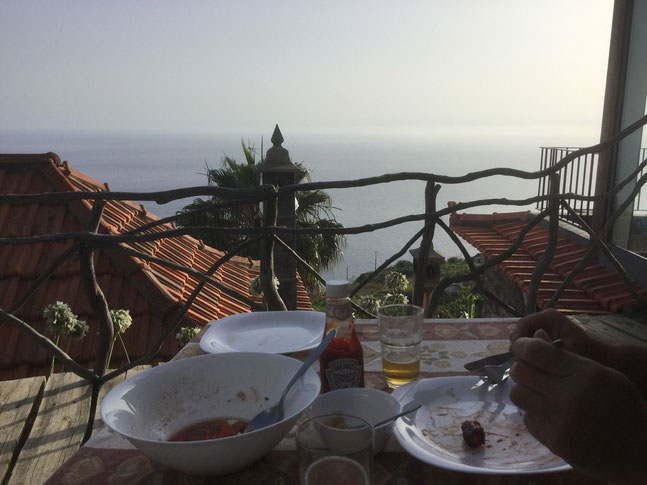 ---
---