Corfu, situated between Albania, Italy and Greece it is an island with an abundance of olive and cypress trees.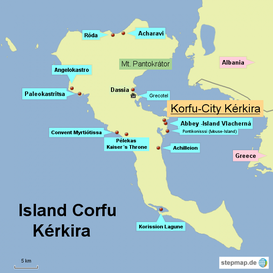 The island is so small that you could easily explore the island in 3 days. The best way to get around is by rental car. We paid 130 € for 7 days and in Corfu we would have paid 45 € per day. Therefore it is wise to organise the rental car whilst still in Germany.
When you stay in Dassia (situated in the middle-east of the Island) you can reach all interesting places of the Island within hours. Corfu is very small making it possible to see the  whole island in 3 days.
The roads are in good condition but sometimes the small roads (marked yellow) are badly signposted and often very small. 
We only had 3 days with sun and total blue sky. There was a lot of rain with an average temperature around 23 degrees Celius. It could be that October is the wrong season to visit Corfu.
The Crecotel at Daphnila Bay
For accommodation, I can higly recommend the Crecotel Daphnila Bay Thalasso. The location is quite central and you also have a great view over Daphnila Bay.
Corfu-City
The old City of Corfu-City is under UNESCO world heritage listing. You can walk around Corfu-City for many hours and drink a delicious coffee in one of the many street cafes. 

A visit to the old fortress is worth the gorgeous views of the old city and the ocean.
Monastery Island Vlacherna and Pondikonisi ("Mouse Island")
An excursion to the Monastery Island Vlacherna and Pondionisi (Greek meaning "Mouse-Island") is worthwile. If you're after a change, then a boat-trip to the Mouse-Island is interesting but otherwise it is not important.            
Achilleion - Palace of Queen Elizabeth of Austria (Sissi)
The highest Mountain on the Island - Pantekrátor
Only when the weather is nice should you drive to the Mountain Pantokrator (910 m). There you will have unforgetable panoramic views of the Island and the coastline of Albania.                

Kaisers Throne Pelekas
There is a fantastic view from Kaiser´s Throne over Corfu-City. And if the weather is  good you will also experience a brilliant sunset. Fact: the sunset was the reason that the Queen often went to this place.  

Korission Lagoon
The Korission Lagoon is the right place to enjoy a secluded beach that is also miles long. There is also a Kite station and two nice beach-cafés with sun lounges.
Paleokastritsa and Angelokastro
We not only saw a monestry with magnificent views, but we also did a boat-trip to visit the caves.
And if you're after panoramic views, then the walk up to the Castle-Ruin of Angelokastro won't give you this.

The North of the Island - Rhóda and Acharavi